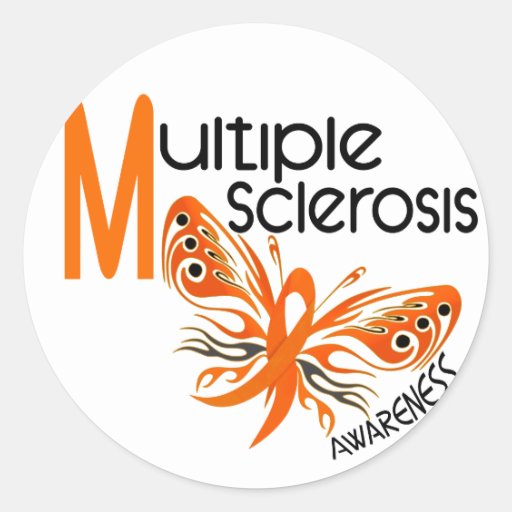 By Guest Contributor, Christina Carlson
I am a mother, a military spouse, a daughter, a sister, and a friend. Everyone has their battles- the little things in life they fight.  My battle? Living everyday with Multiple Sclerosis and this is my story.
It all started in June of 2012. I was driving and suddenly the vision in my left eye became fuzzy. I didn't think much of it…just that maybe I had something in my eye or needed to clean my glasses. When I got home, cleaned my glasses, flushed my eye, and my vision was still blurred. I figured it was time to make an appointment with my optometrist; I was due for an eye exam anyhow.
I went to my appointment and explained what was going on. He really had no explanation, so I was referred to a specialist. The appointment was a few months out and during the time between appointments the blurry vision went away, so I canceled my appointment.
Big mistake.
In September of 2012, some very odd and more severe symptoms showed up. My toes and feet were tingly and numb kind of like the pins and needles feeling you get when a body part falls asleep.
Still, I brushed it off.
Eventually the feeling started traveling up to my knees and then my waistline. I started losing my balance, tripping over my own feet; stairs became a challenge and so was carrying my daughter.
The Diagnosis: Multiple Sclerosis
Once daily activities became difficult for me, I decided to confide in family and close friends.  My aunt has MS, and all of my symptoms were similar to hers, but I just wasn't able to accept that this, of all things, was an actual possibility.
"Run into a fight fearless, walk out flawless, stand with your head up high victorious."
I called a neurologist and made an appointment.  They ordered an  MRI of my brain. The scan showed white clusters in my brain, but my neurologist explained it could be any number of things.  To be safe, he ordered more blood tests, another MRI of my brain, neck, and back, and a lumbar puncture, commonly called a spinal tap. Once the results came in, I was called in for a follow up. It was during that appointment that I learned the results that forever changed my life: I was diagnosed with Multiple Sclerosis.
To make matters a little more challenging, my husband was currently deployed to Afghanistan and I was home solo with my 22 month old.  What was I going to do?  Who was I going to tell?  How do you even begin to tell someone this?
My Daily Fight to Chin Up and Carry On With MS
So, now what? I ask myself this question every day.   What do I do with this information? What do I do with this diagnosis? Where do I go from here? How is this going to affect my life? How is this going to affect my family's life? Will my quality of life be impaired? Am I still going to be able to fully participate in activities with my daughter?
I have two choices: I can either wallow in self-pity, or chin up and carry on.
Sure, I could be sad, depressed, and defeated. But this is my life, and I refuse to let Multiple Sclerosis define who I am, or let it dictate how I live. I'm going to fully enjoy life. I'm going to take all the opportunities that come my way.
I'm going to love life, and refuse to think "why me?" I have a wonderful, loving family. I am blessed to live in a day and age with astounding medical advancements and healthcare professionals. I have been gifted wonderful supportive friends.
No matter what hardships or battles you are going through- find and be grateful for the little things. Find your silver linings.
"Challenges are what make life interesting and overcoming them is what makes life meaningful." – Joshua J. Marine
I am a mother, a military spouse, a daughter, a sister, a friend. I just happen to also be battling MS. I'm sharing my experience in hopes of being proactive and raising MS awareness.
For more information on Multiple Sclerosis visit: http://www.nationalmssociety.org/
Christina is an army wife of 3 years, mother a toddler and aspiring nurse. She was recently diagnosed with MS and looks forward to bringing awareness about the disease.