I love everything about working. I love the hustle, the pace, the colleagues, and because I work from a home office, I love…nay, I worship, my yoga pants. Seriously, I telecommute for the yoga pants. Maybe that's what Limp Bizkit should've made Nookie about. "I do it all for the yoga pants…" never mind the syllable-dissonance happening there.
But even when I worked in an office with real people, work days can get crazy busy and feel insanely long.
Did you know the average person spends 30% of their life working? True story.
If you're going to spend a third of your life working, you better find a way to love your work day. Lucky for you, we've got 5 things you can do to instantly make your work day better.
5 Things That Will Instantly Make Your Work Day Better
1. Find a way to NOT hate the morning.
Ah, mornings, the mortal enemy of night owls everywhere. As a night owl I despise mornings. The alarm…the waking up…the moving…it's overrated.
Regardless of how I feel about the mornings, the morning is going to happen. The  least I can do is help it not suck.
Here are 3 things you can do to make your work day better by starting off your morning on a positive note:
Get up earlier so you can sit in silence with or without a cup of coffee. Preferably while Skimming.
Make a morning power playlist
Got a commute? Find a podcast (cough, cough, the Happy Hour Podcast) or an audiobook to put you in a good mood. Recommendation? "Year of Yes" by Shonda Rhimes.
2. Eat lunch…away from your desk.
According to the Huffington Post article, Eating At Your Desk Is Terrible For You And Your Work, 
"Researchers have found that employees who socialize are actually more productive than those who don't. And if you're being honest with yourself, while lunching at your desk, you're probably spending more time on Facebook than meeting a deadline. Yeah, caught you."
3. Tidy your desk before you leave for the day.
If this is you at the end of the work day…
…it's crazy tempting to leave your desk in absolute shambles. Give yourself 5 to 10 minutes to get  your desk in order for the next day.
Is organization not your strong suit? That's OK, check these desk organizing strategies: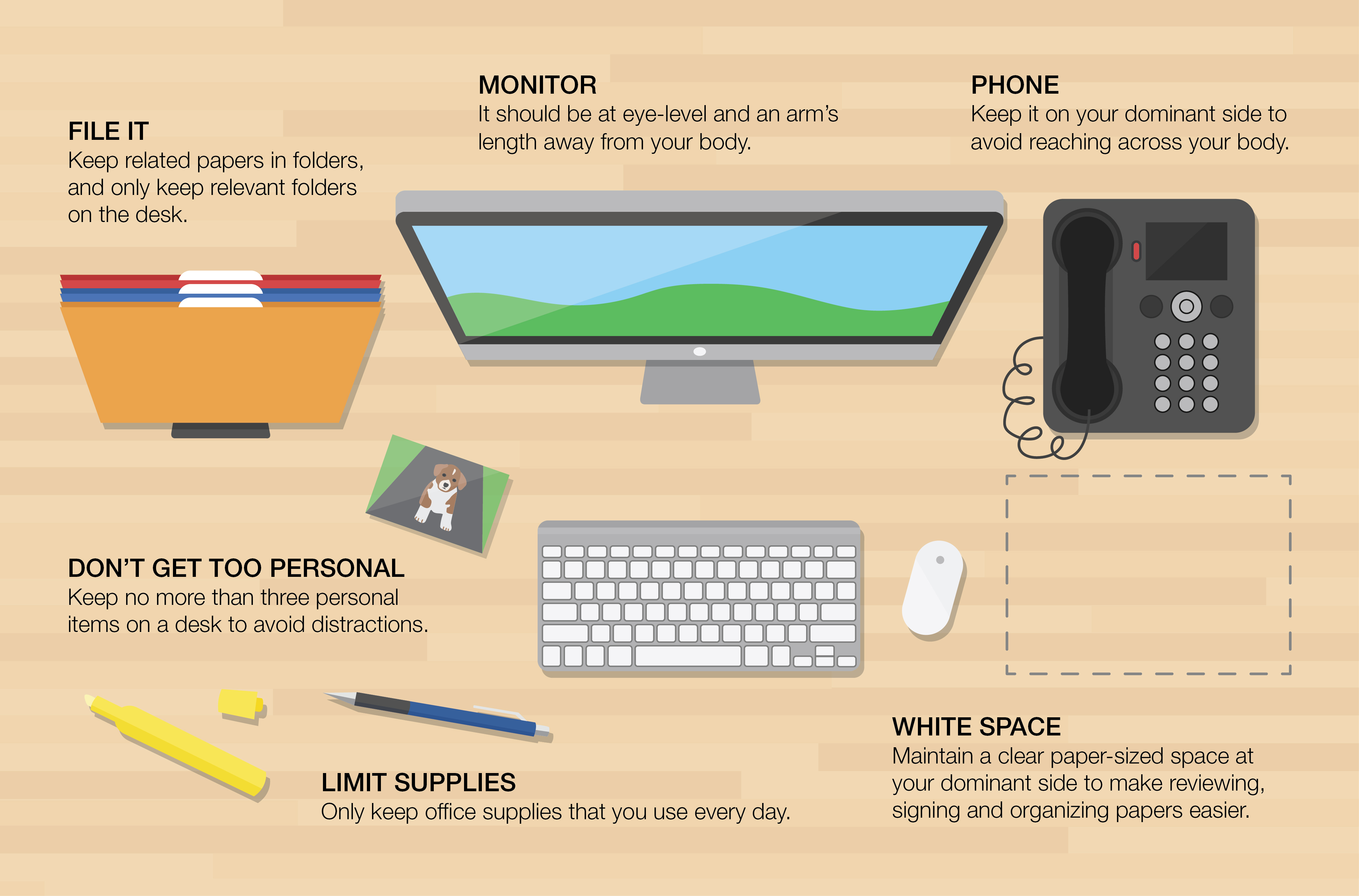 4. Prepare for your work day before you go to bed.
Remember how your mom or dad would tell you to pick out your school clothing before bed? Apparently that was a rule for life. If you're constantly running behind in the morning or looking for a way to get a jumpstart, here's a quick checklist of things  you can do the night before to make your work day better.
Prepare two healthy snacks. By prepare, we mean grab a fruit and maybe a quick protein power up. Pro-tip? We love Sargento's Balanced Breaks. They have them at the Commissary…we checked.
Fill and refrigerate your water bottle. You've gotta get those 64 ounces in somehow.
Make your lunch. Sandwiches, leftovers, whatever…just don't skip it.
Pick out your clothing. 6 a.m. is never the right time to discover a laundry crisis.
5. Make Time for Networking
Whether you're an introvert or an extravert, building relationships with your colleagues and other professionals is a must. Nothing makes your work day better than when you actually enjoy being around the people you work with.
Here's how you can squeeze in some quality time with your co-workers and colleagues:
Make time to go to Happy Hour; it doesn't have to be every week, but at least once a month.
Grab lunch with a colleague…this is like a double dip. Eating and networking FTW.
Join a professional networking group like In Gear Career
How do you make your work day amazing? Share your tips in the comments below!