You applied and got the call for the job interview.
And now? Nothing. Just static. No one is blowing up your cellphone.
Your mind is going on overdrive though. And these thoughts are definitely going through your brain while you wait to hear back after your job interview.
1. I'm sure they are just giving everyone their due consideration, but I bet I have it!
2. I answered those questions like a BOSS! I was honest, warm, friendly and definitely demonstrated how amazing I am at, like, everything. My resume was on point, too. Plus I definitely brought my A game with that portfolio of my work.
3. I'll just wait for the inevitable "We want to hire you!" call.
4. I'll just stay busy doing important things that matter just as much as hearing back from that job.
5. I've cleaned my house, the car, the fancy silver I keep for special occasions. Twice. I'm caught up on ALL of my shows, including all the old seasons that are streaming.
6. I've watched the whole Harry Potter series, and have read The Hunger Games series.
7. Now what?
8. I'm getting a little frustrated now…
9. Did they lose my number? Let me check my resume. Nope, it's still right there where I typed it. Is it the right number? Yup, definitely my number.
10. This waiting game is getting really old, really fast.
11. Maybe my phone is dead! Nope. It's fully charged, just like it has been since I walked out of the interview 2 days ago.
12. This is sooooo annoying! Why don't they call me back?
13. I'll just eat my feelings now, k?
14. Give me all of the carbs, chocolate, ice cream, cake, and cookies ever created. I'll follow that up with some wine, then some hard liquor.
15. Do I apply for other jobs that I want less? Do I keep going on interviews, even though I SUPER want this one job only? What if someone else offers me a job that I only kind of want?
16. My life feels like it is buffering or on hold or stuck in an endless loop. I can't move forward or go back. I'm just standing still.
17. What did I do wrong? Was I snobby?
18. I hope they didn't think my glowing remarks about my skills was bragging. Wait. Is it? Should I have just glossed over how awesome I am at this?
19. I bet the portfolio was over the top. But why would they hire someone without ever seeing samples of their work?
20. This makes no sense! I'm totally qualified and awesome at this. It must be me. I'm just not a nice person or they hated me.
21. Maybe I smelled bad. Did I brush my teeth first? Did I forget deodorant? I definitely showered that morning. And I never forget deodorant. Ever.
22. I've thought this through. I must just not be the most qualified for this.
23. This was my dream job. My whole life I've dreamed of this exact position! It's hurts so much to watch it slip away.
24. I'm just sad.
25. In the very back of my mind, I'm pretty sure they will still call. It's rude not to call, right?
26. I'll just wait for that call.
27. Any time now would be great.
28. I wonder if I stare at this phone long enough I can will it to ring.
29. Jedi mind tricks are worth a try! *Ring phone ring*
30. Ok, let's try telepathic communication. *Call me! Call me! Call me!*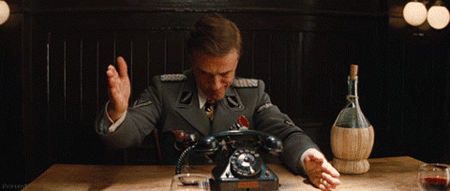 31. I'll just have to accept their rejection. It's just a job, after all!
32. There are other jobs out there, too! I'll just keep applying to all the jobs ever.
33. And we're only here for a few more years. So if it doesn't happen this time around, there is always the next duty station.
34. If nothing else, I'll volunteer for all of the things. Those are supposed to be resume builders. 
35. Why did I get a degree in this? It was a total waste of money. There goes $100,000 down the drain! I can't even get a job, or a call back, in the one field that I have qualifications in. How depressing.
36. I should have listened to Aunt Gloria and just married rich.
37. I've officially given up hope.
38. Let's start the job search. Again.
39. Is that the phone? Is it? IT IS!!!!
40. They. Want. Me. For. The. Job!!!!!!!!!!!!!!!!!!!!!!
What thoughts (good, bad or ugly) pop into your head when you're waiting for that call back after a job interview?